Cover Photo: Courtney Blair. https://www.courtneyblairphoto.com/
Summer 2021 at Alta Lodge
Alta Lodge is not just a winter destination! We are open in the summer months for weddings, private parties, business meetings, retreats, and our famous Sunday Brunch. Our Summer season runs from the beginning of June into early October. Read on for a recap of the 2021 Summer Season at Alta Lodge – one of our busiest ones to date! 
Summer Weddings
What an incredible wedding season we had this year! It was such an honor to host nearly 40 couples as they tied the knot in beautiful, romantic Alta. After the pandemic prompted so many couples to put wedding plans on hold in 2020, the wedding celebrations we saw this year felt exceptionally special and joyous. In 2021, weddings were often the first time for family and friends to gather together in person in over a year, and we could literally feel the love at each and every one. Congratulations to everyone who was married at Alta Lodge this summer – it was truly an honor to host your big day! 
Some of our favorite moments from our 2021 Wedding Season:
Our first visit from the Gingersnap Photobus
A Pie n' Beer themed dessert buffet in celebration of one of Utah's best holidays
2 great-horned owls re-released into the wild right from our patio
S'mores bar with *homemade* marshmallows and custom chocolates
Incredible wedding cakes all summer long from Cakes de Fleur, especially this one with hand-grown/pressed flowers from the bride herself!
Ceremony arch made out of vintage skis!
Gorgeous mountain views all summer long
Alta Lodge is more than just a typical wedding venue. We really mean it when we say that we are an all-inclusive destination to get married. Our facility fees include all tables, chairs, linens, silverware, glassware, and dinnerware; fresh flowers throughout the venue; two complimentary day-changing rooms to use as you get ready for the big event, complimentary wedding night lodging for the wedding couple, use of all the lodge public spaces (indoor and outdoor), AND an on-site wedding coordinator to help in the planning process as well as take care of all the details day-of. With our in-house catering, beverage service, and on-site lodging, Alta Lodge is truly a one-stop shop for all your wedding planning needs. Oh – and did we mention the view from our ceremony patio?!  
With 44 lodging rooms available in the summer months, the Alta Lodge Wedding experience doesn't end when the music turns off and the dancing stops. Wedding guests can book a room for the night and continue to enjoy time together once the reception ends. Whether you choose to keep the party going in our after-hours event space or are just ready to get a great night's sleep after the wedding festivities, spending the night at the Lodge is the perfect end to the evening. With a room for the night, wedding couples and guests can wake up and enjoy breakfast together the following morning (or our famous Sunday Brunch after a Saturday night!).  
For a completely private and intimate evening, we offer the option to book the entire lodge exclusively for invited wedding guests. This option is built-in to our Saturday night rates but is available any night of the week. To make the most out of a destination wedding, make it a full weekend with the addition of a rehearsal dinner and guest lodging on Friday night. 
Wedding Open House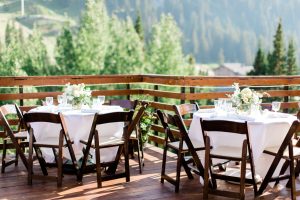 As we kicked off our wedding season, we hosted our second annual Wedding Open House. This event is an opportunity for upcoming scheduled wedding couples to see the lodge in full-on "wedding mode" and really dive into the planning process. In addition to having the physical spaces set as we would for a special event, we also had a selection of appetizers, beer, wine, and cocktails available to taste – along with a hot entrée buffet.  Our on-site wedding coordinators and sales staff were available to help couples finalize details and answer any questions.  
Private Events 
Alta Lodge isn't just a wedding venue, we are open to work conferences, retreats, reunions, birthday parties, bar/bat mitzvahs, private dinners, fundraisers, any special occasion! In addition to the weddings we hosted in summer 2021, we also welcomed a weekend-long Peace Corps reunion, a surprise birthday party, and our annual Rocky Mountain Knitters retreat – just to name a few. Alta Lodge is the perfect indoor/outdoor mountain destination for private retreats and events, whatever the occasion may be. We will arrange meal and bar service for your event and offer overnight lodging. Contact rosie@altalodge.com to start planning your exclusive mountain getaway. 
Wine Dinners

Back by popular demand! This summer, we were able to bring back a double-feature of our sought-after mountain wine pairing dinners. These evening events included a seasonal or regional-inspired five-course dinner prepared by our very own head chef, Sam Wolfe. Each course was expertly paired with an accompanying wine by a certified specialist of wine, and our host for the night, Jeff Withey. 
Guests experienced a fun and social al fresco fine dining experience Alta-style. With good friends, great good,  fresh air, and stunning mountain views, we can think of few better ways to spend a summer evening. As always, overnight lodging was available to dinner guests, transforming a night out on the town into a full-on staycation. 
Sunday Brunch
Sunday Brunch at Alta Lodge is a keystone of summertime in Little Cottonwood Canyon. Enjoyed by our regular local crowd, day-trippers from the Salt Lake Valley, and our out-of-town guests, brunch at the Lodge truly has something for everyone.  
Our brunch buffet features over 40 selections including house-baked pastries and desserts, an ample array of hors d'oeuvres and cold salads, and an assortment of hot entrees like shiitake kale strata and grilled salmon. In addition to the buffet, brunch includes eggs benedict and Belgian waffles to order at no additional charge. And would it really be brunch without a mimosa or bloody mary?! We don't think so. Your favorite brunch cocktail, along with wine and beer can be enjoyed on Sundays starting at 10:30 am.  
You can choose to dine inside our dining room (easiest access to the buffet) with views of Mt. Superior, or enjoy brunch on our outside deck or patio and take in the fresh mountain air and scenery of Alta Ski Area. With unobstructed views of High Rustler and Mount Baldy, there is not a bad seat in the house! 
To accompany the delicious food, stellar views, and excellent service, our Sunday brunch features live jazz music to complete the mood.  
Hiking/Wildflowers
Alta is beautiful year-round. Some of our favorite hikes are Catherine's Pass, Twin Lakes Pass, and Cecret Lake. Wildflower season tends to peak in late July, and 2021 did not disappoint! Despite a drier than usual year, we were fortunate to have an abundant wildflower season and stunning fall colors in September and October.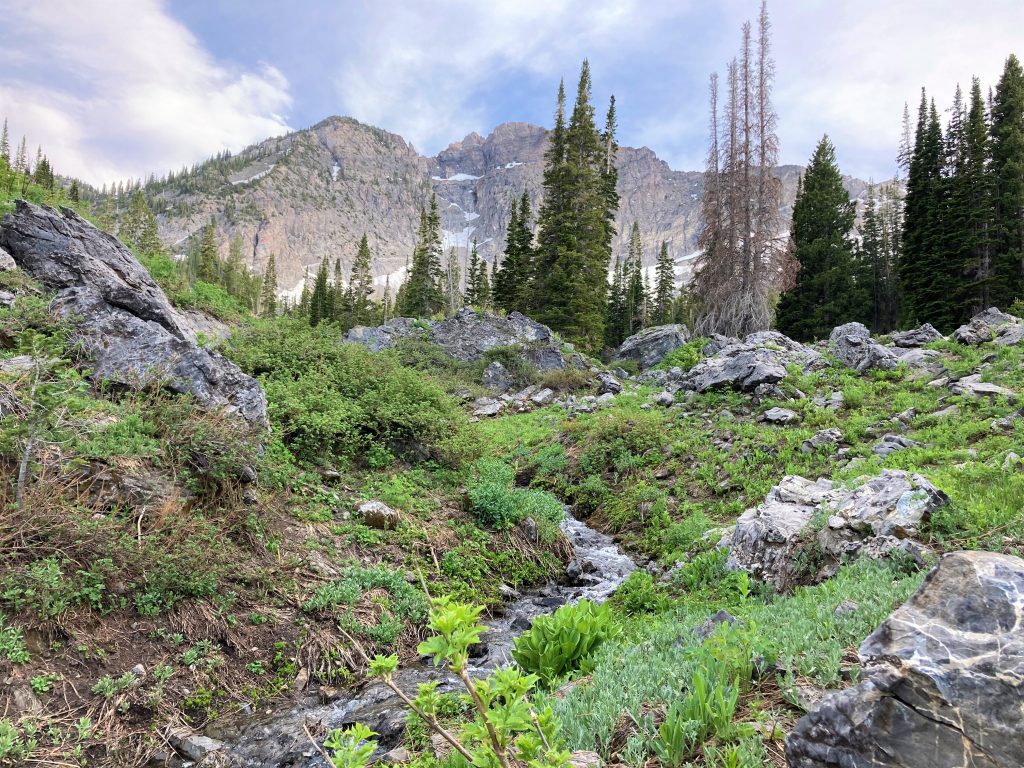 Photo Credits: 
Courtney Blair – https://www.courtneyblairphoto.com/
Kendal Anne – https://www.kendalanne.com/
Desiree Jasmine – https://www.desireejasmin.com/