Romantic Alta
The nickname "Romantic Alta" was earned many, many years ago. The jaw-dropping beauty of our mountain setting year-round just seems to have a special effect on the people here. At Alta, love is always in the air!  In honor of Valentine's Day, we created a little romance novel – "Alta Lodge Love Stories." Read on to learn how the Lodge has played "matchmaker" for so many lucky couples over the years.
💞Alta Lodge Love Stories, Part 1: Grace & Jeff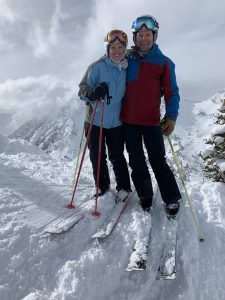 When Grace McEachern arrived to work at the Alta Lodge's Front Desk in 2018, she had never been a skier or even experienced winter before. Little did she know that Alta had some magic up her sleeve, and she was soon to meet (and fall in love) with the brilliant ski instructor, Jeff Roberts.
Their lives crossed paths the night of an Interlodge – when there is high avalanche danger and avalanche mitigation work requires everyone remain indoors. When this happens, the best thing to do is sit tight with a beer and play cards in the Sitzmark at the Alta Lodge. That is what Grace was doing when the ski instructor crowd came in, and she invited Jeff over for a card game. To make things interesting, Jeff placed a bet for a 2-hour private ski lesson. Grace won and called him up for that lesson and they spent the rest of the season skiing black diamonds together and falling in love.
It has been two years since that first card game in the Sitzmark. To celebrate, Grace & Jeff skied together and stayed at the Alta Lodge. That evening, on the patio in the middle of a snowstorm by the fire, Jeff proposed. What a romantic full circle moment!
💞Alta Lodge Love Stories, Part 2: Ruth & John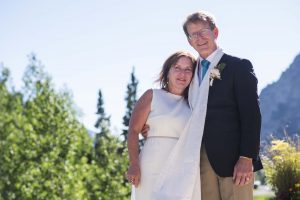 While skiing in Utah after covering the 2002 Olympics, photographer Ruth Fremson was urged by a friend to join her at Alta Lodge for dinner. That dinner led to a week-long stay later that month and a decades-long love affair with Little Cottonwood Canyon and skiing at Alta.
Fast forward to 2012 when Manhattan-based Fremson had an assignment in Washington state to get some aerial photography of a recent avalanche. To help with the project, she was pointed towards pilot and aerial photographer, John Scurlock, who agreed to fly her over the North Cascade mountains. During that flight, the two discovered a shared passion for photography, skiing, and mountains. The following year, John joined Ruth on her annual Alta Lodge ski trip. A couple of years later they were engaged.
As their friends and family were scattered all over the world, they decided to choose a wedding location that was particularly special and meaningful for them; one they wanted to share with the people they love. On the weekend of June 25, 2016, one with perfect summer weather, their group arrived at Alta Lodge for a few days of revelry. On their wedding day, guests joined the bride and groom on a hike to the top of Mount Baldy and then danced after the wedding until the last moment when the band had to pack up for the night. The Fremlocks, as they jokingly call themselves, have continued their annual ski week tradition at the Lodge and this year, on their fifth anniversary, hope to add a summer trip as well to celebrate.
💞Alta Lodge Love Stories, Part 3: Abbie & Eddie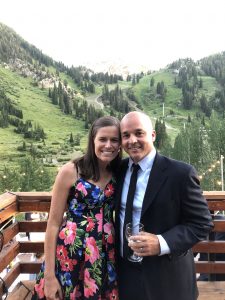 Eddie and Abbie both moved to Utah and started working at Alta Lodge during the snowy 2007-2008 season. Eddie's brother, Nick, helped him land a job in the Dining Room after 10 years of corporate NYC life, while Abbie made the move after college at the suggestion of her mom – who had lived the Alta dream for two seasons in the 70s. The next summer, Eddie joined Abbie as a deskie and they quickly forged a close friendship over the next three years at the Lodge (and even went on double dates together with other people!).
In 2010 Abbie left to serve in the Peace Corps in Ukraine followed by grad school in LA while Eddie kept the dream alive in Alta.  It wasn't until 2015, when Eddie reached out to Abbie as he was passing through LA during a surf trip, that things finally turned romantic.  Following four months of a long-distance relationship, Abbie quit her job to join Eddie for a summer of van life traveling from Baja to Oregon, before moving back to Alta together that fall. When it came time to propose, it was natural that Eddie did so in Romantic Alta. The two were married in 2018 and continue to live and work in the canyon, Eddie at the GMD and Abbie with Wasatch Adaptive Sports.  They'll never forget that it was the Alta Lodge that originally brought them together!
💞Alta Lodge Love Stories, Part 4: Cassie & Marcus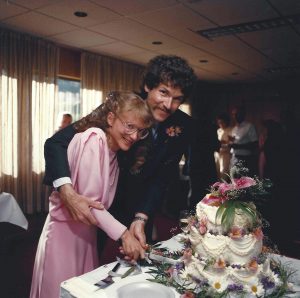 Growing up as the daughter of Alta Mayor and Alta Lodge owner, Bill Levitt, it was just a matter of time before Cassie met the love of her life in Romantic Alta. Marcus, on the other hand, had no idea that a freshman year college ski trip would bring him one step closer to meeting his future wife. On that trip, Marcus fell in love with Little Cottonwood and powder skiing. Four years later, he would return to Utah for a summer geology field camp and decide to stick around for a winter of "skiing his brains out" before joining the "real world." With a stroke of luck, the Snowbird hiring office was closed, so he made his way up the canyon and managed to land a winter job at Alta Lodge.
Marcus arrived at the lodge on August 11, 1978, just in time for a midsummer snowstorm. Cassie and her then-boyfriend had plans to camp in Albion basin that night and watch the annual Perseid meteor shower. 10" of snow and one cold night later, Marcus and Cassie first met the following day. They remained just friends for several years as either she had a boyfriend or he a girlfriend. Eventually, they both found themselves single at the same time.
At first, Cassie thought she should try to play matchmaker for Marcus and find him a nice girlfriend. It didn't take long for her to realize, "Wait, I'm a nice girl!". They began dating shortly after. In 1986, the two were married right here at Alta Lodge with Bill presiding over the ceremony. Thirty-five years and two children later, they still enjoy regular ski dates in the winter and brunch on the patio together on weekends in the summer. Or, in Marcus's words, "She has been putting up with me ever since."
💞Alta Lodge Love Stories, Part 5: Jules & Mike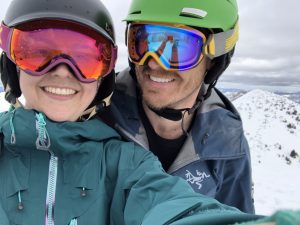 Mike "Camps" Campanelli has been bartending in the Sitzmark since 2013. His creative cocktails and homemade bitters have made quite the impression on our guests and the Alta community.
Jules Swinson moved to Salt Lake in 2012 and answered an ad to work at the Motherlode Powder House for "one" season. It only took her until about February to realize she wanted to stick around. On the suggestion of a co-worker, she applied to spend the summer working at Alta Lodge. During that summer, she also moved up to Alta full-time, living in an employee apartment right next door. The following winter, Jules decided to pick up a few shifts a week working the bar door at the Sitzmark. It just so happened her shifts coincided with the nights that Mike was bartending. She was recovering from an ACL injury at the time and being on crutches left most of the "heavy lifting" up to Mike. He didn't seem to mind.
They worked together that season, but Jules didn't pay too much attention to Mike at first – there were plenty of other women swooning over him at the time. In early 2014, Mike left Alta unexpectedly to pursue an opportunity in Los Angeles (#IYKYK) but made sure to say goodbye to Jules before his departure. As fate would have it, that opportunity didn't quite pan out, and Mike came back to Alta just two weeks later — feeling ready to fall in love. One memorable St. Patrick's Day party later, and they have been together ever since! The two were engaged in the fall of 2018. Their original plans for a May 2020 wedding in Baja were foiled by the pandemic, so instead, they tied the knot in an intimate desert ceremony in September.
You can still find Mike slinging cocktails in the Sitzmark every Monday and Tuesday night during the winter. In the summer, he stays busy serving up drinks for all the lucky couples that get married at the Lodge. Jules still works right next door.
💞
Alta Lodge Love Stories, Part 6: Mimi & Bill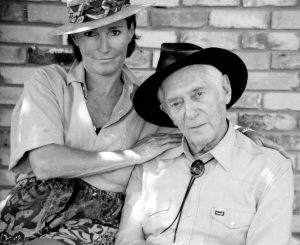 A week of Alta Lodge love stories wouldn't be complete without Mimi & Bill. We're certain there were romances before them, but to us, they are the original Alta Lodge couple.   
This long-lasting love affair dates back to 1954 when Bill Levitt first ventured to Utah from New York and skied the enchanting slopes of Alta for the very first time. Alta captured Bill's heart from the start. Maintaining his long-distance relationship with this special place wasn't easy. As Bill would tell it "I had to make a choice: buy United Airlines so I could afford to continue coming to Alta on a frequent basis or purchase the Alta Lodge. I decided to do the latter and bought the Lodge from J. Laughlin in 1959." Little did he know, this decision was the catalyst for an even greater love story.  
Mimi found Alta about a decade later in January 1966, when she too headed west from New York for a  desk job at Alta Lodge. Mimi was smitten with Alta at first sight and decided to stay to live and work at the Lodge year around. As fate would have it, Bill and Mimi fell in love, married in 1982, and shared over 40 wonderful years together, until Bill's passing in 2009. 
Not only did their passion find them partners in marriage, but also in work. Together, they made the Lodge a "home away from home" for generations of guests, with Bill as the "ultimate proprietor" and Mimi as queen of reservations and guest service. They also worked to preserve the beauty of Alta for generations to come in founding Friends of Alta in 1981 – to protect Alta's unique character, heritage, community, and natural treasures.  
As Mayor of the Town of Alta for 34 years, Bill also had the pleasure of officiating weddings in "romantic Alta", where he married dozens of couples during his tenure. This led to Alta Lodge hosting summer weddings for the past 40 years and counting. We're sure it would warm Bill's heart to know that the Lodge and Mimi are still carrying on the legacy of love in their beloved Alta.