Getting to Alta from Salt Lake City
Alta is Easily Accessible from Salt Lake City International Airport
One of the (many) reasons Alta is such a great place for a ski vacation is due to how QUICK AND EASY it is to get here, from anywhere. Only 32 miles from Salt Lake City International Airport, we hear from so many of our guests how it is actually faster to fly in and get to Alta than it would be to drive to the nearest ski resort. With the likelihood of the I-70 corridor experiencing bumper-to-bumper traffic for 4-5 hours– even folks from Denver can get to Alta sooner than they could make it to Breckenridge or Vail. With such a short flight from San Francisco or Los Angeles, our guests from California can get here in less time than it would take them to get to Tahoe or Mammoth.  Salt Lake International is a Delta hub, so direct flights from cities like New York and Boston allow our guests from the East Coast to catch an early morning flight and arrive in time to ski in the afternoon. 
No Need to Rent a Car
Another reason a ski vacation at Alta Lodge is preferred is the fact that there is no need to have a car. The Town of Alta is small… like, really small (4.5 square miles when all is said and done, including the entire Ski Area). With breakfast and dinner included, a stay at the Alta Lodge is truly ski-in, ski-out. As a matter of fact, it would take more time to walk from the lodge, up to your car, warm it up, brush off all of the fresh snow, and drive to any other location in Alta than it would to walk directly from the Lodge. If your legs are spent from a full day on the slopes, we also offer a courtesy shuttle to our lodging guests anywhere within Alta and Snowbird. 
5 Reasons Not to Bring a Car to Alta
1. Traction Laws
Whether it be snowy or icy, vehicles traveling in Little Cottonwood Canyon are often subject to the Utah Department of Transportation Traction Law. The requirements are strict, and it is nearly impossible to find a rental car equipped with the appropriate gear (even a 4WD vehicle still needs to have appropriate snow tires or chains). Lights flash at both the bottom and top of the canyon when the traction law is in effect.  It may be tempting to "risk it" when you arrive on a clear day, but there is no way of knowing how the conditions will evolve during your stay. For this reason, all vehicles accessing the canyon between November 1 and April 30 must be equipped for winter travel and able to comply with the Traction Law. 
For more information on winter travel in the canyon, we recommend going directly to the source – Utah Department of Transportation, Cottonwood Canyons. 
2. Winter Driving
Even if you find yourself with a winter travel-ready vehicle, you must be very familiar and comfortable with a variety of winter driving conditions. Given the vertical relief of the canyon, there can be light snow piling up on the road in Alta, wet slushy snow by Snowbird, and rain and/or sleet down lower – not to mention the possibility of black ice. The driving conditions can be unpredictable and can change at the drop of a hat. At times, the canyon road is steep, narrow, and winding. White knuckling it behind the wheel is no way to start or end your vacation. 
3. Parking – Permits and Reservations 
New as of the 2021 – 2022 Winter Season, overnight parking permits are required to park in the Town of Alta.  In addition, Parking Reservations are required to park in Alta Ski Area parking lots on weekends and holidays from 8 AM through 1 PM. Alta Lodge has a limited number of private overnight parking spaces for our guests (free of charge), but we cannot guarantee availability. When those are full, parking along the town road (see the town parking map) may leave your vehicle parked roadside, nearly a mile away from the Lodge. In order to avoid a ticket, you will need to provide our Front Desk staff with detailed information about your vehicle, including license plate number, make, model, year, and color, so we may obtain a temporary permit for you.
If you do drive to the Lodge, please let us know when you arrive (there's a courtesy phone at the roadside guest entrance – give us a call and unload your luggage). Our staff is happy to assist with parking and baggage.  We will help find you an overnight spot, provide you with a shuttle ride back to the Lodge if overflow parking is the only option, and deliver your luggage to your room while you are parking.  Parking illegally overnight isn't worth the risk. The last thing you need on your vacation is dealing with the logistics of retrieving a towed vehicle.   
4. P
lowing
All cars parked in town are required to adhere to town regulations not only when it comes to parking but plowing as well. To keep parking available, plowing out the town parking areas is often required. This means all cars parked in town must move to a temporary parking spot overnight (and then be moved back the following morning). We think this is a hassle you should live without!  
5. Shoveling/Snow Removal
Digging a car out after an epic storm is seriously no fun. Alta is known for its impressive snowfall totals, and we could see up to three feet of snow in just two or three days. That stacks up quickly and lends itself to missing out on the last morning of skiing because you have to shovel out the car before heading to the airport. Even if you are not leaving right away, Town ordinances require cars to be dug out to the point of visibility within 10 hours of a storm. That could mean more than one trip to find your car during a week-long stay.  
Rules For Getting to Alta
So, now that we have talked you out of driving a car, how does one get to Alta from the airport? GREAT question. We're glad you asked. When getting yourself to Alta, there are only 2 rules:  
1. D
o
NOT Rely on Uber or Lyft
Even with services like Uber Ski available, we do not find this to be a trustworthy way to get up the canyon. Those vehicles are only required to have enough space for skis and gear – there is no guarantee they are equipped with the appropriate traction devices to get you safely up the mountain. Uber drivers have not been vetted for winter driving conditions, and we've heard stories of guests being left mid-canyon or turned around and brought back to the bottom of the canyon because their Uber driver couldn't make it. On top of that, even if you do successfully make it to Alta Lodge in an Uber, rides back down the canyon to the airport are nearly impossible to come by. A stark contrast to busy downtown Salt Lake City, Alta is quiet and there are no Lyft's circling around town just waiting for a ride request. Guests looking for last-minute rides to the airport might end up missing their flight.  
2. DO Take a Shuttle from the Airport Directly to Alta Lodge
It is easy, effortless, and most importantly, stress-free! Shuttle drivers are experienced and confident driving in all winter weather conditions, vehicles are guaranteed to have appropriate traction devices, and the driver will even take care of getting your luggage (including your gigantic ski bag) in and out of the van for you. 
Shuttle Services Between Salt Lake City and Alta
Before you Google the shuttle service options out of Salt Lake (there are many), let us offer you our recommendations.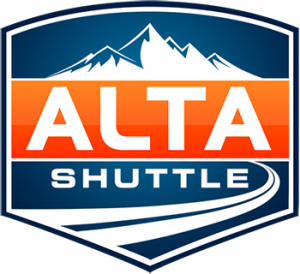 Alta Shuttle is the most commonly used shuttle company among our Lodge guests. With over 35 years of experience, Alta Shuttle has been one of our trusted transportation partners from the beginning. Known for their shared shuttle service from the airport, rides are affordable and convenient (2020-21 pricing is $82 round-trip per adult, $62 for children under 12). Private rides are also available. When you arrive at the airport, head to one of the Alta Shuttle desks in the baggage claim area and check in with a representative while you are waiting for your bags. Shuttles depart the airport every 20 – 30 minutes and head straight up Little Cottonwood Canyon. Getting back to the airport for your return flight is just as easy – shuttles depart Alta every hour on the 45-minute mark (starting at 4:45 AM). The drivers are friendly, helpful, and very accustomed to the various driving conditions in the canyon. As with any shuttle company, you want to be sure to book your trip in advance, so they know when to expect you. 
If you are looking for a private door-to-door experience, Alpine Transportation is the choice for you. Luxury SUV and private 11-passenger vans offer comfortable and safe driving accommodations. Rates start at $120 each way (and fluctuate depending on the number of passengers). Depending on the size of your group, Alpine Transportation can be a more economical option and provides the solitude and efficiency of a private ride. With over a decade of experience driving in the Cottonwoods and Park City, we trust them just as much as the competition.  
Addendum for Winter 2020-21
The Coronavirus pandemic has changed the ways we travel.
When booking transportation to the Lodge, you can rest assured that your health and safety is still the top priority. Alta Shuttle and Alpine Transporation have updated their operations to include Covid-response protocols in compliance with all current guidelines, recommendations, and local requirements. Please refer to their websites or representatives for details.
Alta Shuttle Health and Safety Page
We understand that this year you may be more inclined to drive to Alta, and we support you in that decision. To help accommodate, we have added overnight parking spots designated specifically for our guests. If those happen to be full, we will be sure to work with you to make sure you find an appropriate overnight space within the Town of Alta and alert you should you need to move your car for snow removal. As always, please be sure your car is fully equipped for winter travel.
Additional Resources
More information about the Traction Law and Winter Driving in Little Cottonwood Canyon:
Understanding parking permits and reservations at Alta Ski Area and Town of Alta:
Alta Ski Area, Parking and Road Information

Alta Ski Area Parking Reservations