Kids and Family Programming at Alta Lodge
Families have always been an integral part of our Alta Lodge community, and we are committed to prioritizing your family's needs during your stay. As expected, we have made modifications to our operations across the Lodge to ensure a healthy, safe, and comfortable winter visit. While some of the details may be different than you remember, so much about the Alta Lodge experience you know and love has remained the same – comfortable mountainside accommodations, intimate lodge atmosphere, amazing food, incredible skiing, and your home away from home to gather with loved ones.
Family Fun All Day Long
At Alta Lodge, the fun doesn't end once the ski day is over. Once you make your way back to the Lodge after a full day on the slopes, we are ready to keep everyone in your family entertained and engaged until bedtime. From teatime to sledding to indoor activities to enjoy on your own timeframe, we truly have something for everyone. This year, more than ever, we are ready to customize your experience to meet you at your comfort level.
Keep reading to learn about what Alta Lodge offers to make sure you have enough time with (and without 
😉
) your kids during your vacation.
Kids Stay Free – Every Month of the Season
If you have been unable to take advantage of our Kids Stay Free program in the past because the dates haven't lined up with your travel plans, you are in luck! This year, we are offering this great deal for select dates EVERY MONTH of the season. Here's the deal: Book a 4-night minimum stay in a standard room or better, and children ages 12 and under stay in your room at no additional charge. With two children, this is a savings of $200 per night! Don't forget, a full hot breakfast and dinner are included in the room rate.
2020/2021 Kids Stay Free Dates
November 20 – 30, 2020
December 1 – 17, 2020
January 3 – 13, 2021February 21 – 28, 2021
March 1 – 11, 2021
April 4 – 17, 2021
Every child staying at Alta Lodge this winter will receive a complimentary welcome bag full of goodies at check-in.
Kid-Friendly Activities – To Go!
New this year, each kid's welcome bag will feature a menu of pre-packaged activities that you and your child can choose from to keep them entertained every day during your stay. These activity kits will include everything you and your child need, from start to finish, so you don't have to worry about packing those colored pencils. These take-out activity kits will be tailored to different age groups, "messiness" levels, and will all be perfect to take back to your room, bring to dinner, or complete in our Kids' Club room (more info on that below). Sign up in advance and have your activity kits ready for you when you return to the Lodge after a fun-filled day of skiing!
Clay Animals – Make em' and Paint em'!
Design your own Necklace or Bracelet 
Activity Booklets Variety Pack – Coloring Pages, Crosswords, and Scavenger Hunts
Kids' Club Room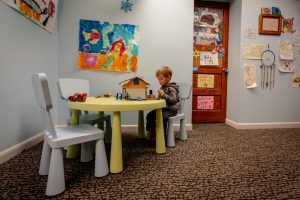 Our Kids' Club room is fully stocked with arts and crafts supplies, games, puzzles, bean bag chairs, and a DVD player (with a variety of movies to choose from!). Designed for children aged 4 – 12 in mind, the Kids' Club is the perfect place to get creative and have fun. Enjoy using this space exclusively for your family at any time of day, at no additional cost.
Families can reserve the Kids' Club for private use (with parent supervision) in 45-minute blocks during the day, leaving our staff plenty of time to come in and clean before the next family arrives. Reservations are required, so please reserve your time via the sign-up sheet at the Front Desk. ​You can book two sessions back to back if you want more time to finish a project. 
Outdoor Activities
Families who choose Alta love spending time outside in the mountains. That outside time isn't limited just to skiing! Sledding, building a snowman, and having a snowball fight are all part of the Alta experience. When the weather allows, Alta Lodge will host supervised outdoor activities for kids and families from 4:30 – 5:30. If we don't have something on the schedule, you are still welcome to use our sleds and we encourage you to take advantage of the easy access to the snow right from our locker room.
Supervised Childcare
As much fun as family vacations are, we know that some adult-time can be appreciated. We plan to offer supervised childcare, upon request, from 4:30 PM – 8:30 PM. There will be opportunity for outside playtime, and indoor activities to experience in the Kids' Club Room, in your lodging room, and at dinner time. We recommend taking advantage of this offering
If you want to enjoy a leisurely 4-course dinner without the kids
After skiing, so you can enjoy an adult beverage and relaxed après in our Sitzmark Club

Whenever you want some "me" time to warm up and relax in one of our scenic hot tubs
Our staff will keep your child busy with one-on-one games and activities. Availability is limited. Please inquire with the Front desk to sign up.
Ski School/Ski Shuttle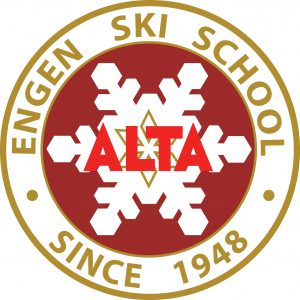 Alta's world-known
Alf Engen Ski School
will be starting the season off with private ski lessons, classes, and programs for all age groups. Please refer to their website to get the most up-to-date options and pricing. If your children are taking part in a lesson and need help getting to ski school to get started, we have a complimentary shuttle service available for all Lodge guests upon request. Reserve your shuttle with our Front desk staff and rest assured, we will only be transporting one family at a time.
Family Dining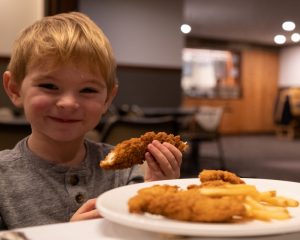 After a long day of skiing and playing in the snow, you and your children are bound to be hungry. Complimentary afternoon tea and refreshments are available to all Lodge guests from 3:30 – 5:00. Warm yourself up with some hot cocoa, coffee, or fresh-brewed tea. Keep your hunger at bay with some fresh-baked treats straight from our ovens.
We reserve the first half-hour of our dinner service from 5:30 – 6:00 especially for families with children, with menu options that will satisfy even the pickiest of eaters – pizza, pasta, and chicken fingers anyone? Don't worry, we of course have plenty of fruit, veggies, and dessert too!
Meet Abby – Our Kids' Club Coordinator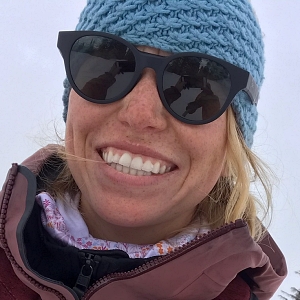 Abby is returning to Alta Lodge for her third season and has helped facilitate our kids' programming every year! She has been skiing Alta for the past six years while completing her Bachelor's of Biology degree at Westminster College in Salt Lake City. Abby loves skiing, yoga, paddle boarding, and sledding. Abby is certified for adult and pediatric CPR/AED. She has also recently completed a CDC Certification for Re-Opening Schools and Day Camps.