Alta Lodge Ski Adventure Camps
Alta Lodge has been hosting Ski Adventure programs for almost twenty years. With the introduction of Powder Tracks in 2003, these camps were developed as a fun way to improve skiing skills in Alta's legendary terrain through multi-day, immersion programs. The camaraderie is second to none as guests are in good company with fellow engaged skiers and are coached by experienced instructors from Alta's Alf Engen Ski School.  Spend the day learning and enjoying all the Alta has to offer then meet up for après ski and dinner. Lodging, hot breakfasts and full dinners are included in our ski adventure rates, as well as Alta lift tickets and high-end demo ski gear.  
We offer a variety of camps throughout the ski season to accommodate intermediate, advanced, and expert skiers. With both co-ed and women's specific adventures, we truly have something for everyone! While each camp has a slightly different focus, the end goal is always the same: improve your skiing while making lasting Alta memories.  
Here are our top 
7
 reasons to choose an Alta Lodge Ski Adventure Camp this season:
1. Ease
There are a lot of logistics involved when trying to piece together a ski vacation; arranging flights, transportation, lodging, lift tickets, ski instruction, ski gear, dinner reservations… and the list goes on. When you choose a Ski Adventure Camp at Alta Lodge, you cover all of your bases with just one booking. The rates include lodging, hot breakfasts, four-course dinners, ski demo gear, instruction, Alta lift passes, and more. We also take care of the schedule for the duration of the camp, so all you have to do is book your flight. Let us know your flight information, and we will arrange for round-trip transportation to and from the airport with Alta Shuttle.  
2. Instruction
Working directly with Alta's Alf Engen Ski School, your ski instructors are pre-selected from the best of the best in the business. Our primary coaches have been working with our camps for years and have seen their students make milestones of improvement over the course of any given camp. Depending on which style of camp is best for you, you'll have the pleasure of learning from top Alta Coaches. While the camps work together in groups (typically a 1:5 instructor to student ratio), the level of commitment from the coaches is more in-depth than a typical private lesson would be. With 6 hours of on-snow lessons per day, you are sure to advance your skiing technique and try out new terrain. 
In addition to the daily on-snow instruction, our camps also include morning "tech talks" and afternoon reviews. In the morning sessions, instructors review the basics of the techniques they will be focusing on that day. These sessions give ski campers a great insight into what the day will bring. While on the snow in the afternoon, ski coaches take video footage of their students to review at the end of the day. Looking at your own skiing is an unbeatable way to track your progress throughout the camp. 
3. Demo Skis
Alta is known for its impressive annual snowfall totals. While we know this is what keeps us and our guests coming back year after year, it can also lead to unpredictable weather and varying ski conditions. We know the importance of being on the right gear to match the conditions of the day, so leave it up to the pros at The Deep Powder House Ski Shop to select the appropriate skis for you. They will take into account your skiing ability as well as the current snow conditions. Conveniently located just steps away from the Alta Lodge, renting skis from the Powder House is a breeze. Demo Skis (and boots, if needed) are included in the package price.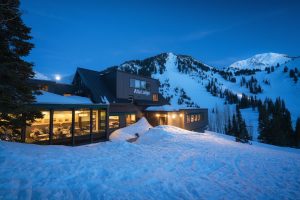 4
. Ski-in/Ski-out Lodging
Celebrating our 80th anniversary as Alta's original ski lodge, Alta Lodge offers comfortable slopeside lodging accommodations. When you book a spot in one of our Ski Adventure Camps, we will choose the best room available for you based on your preferred room type. Our standard rooms come with boot dryers, a programmable safe, a comfy bathrobe for use during your stay, and a private ski locker located in our shared locker room to easily access and store your ski gear. Guests ski directly from the locker room down to Alta's Wildcat Base Area. At the end of your ski day, we have a rope-tow that takes you directly back to the lodge. Ski campers also have access to all other lodge amenities, including daily morning yoga classes, afternoon tea, saunas, and hot tubs with mountain views.  
5. Camraderie
A day in the life of an Alta Lodge Ski Adventure Camp doesn't end once your ski boots come off. Après ski (aka all that goes on after skiing), is an integral part of the Ski Camp experience. Continue to connect with your coaches and fellow campers with a post-ski soak in one of our hot pools, a refreshing drink at the classic Sitzmark Club, or over one of our satisfying meals (in keeping with traditional lodging style, we include a hot breakfast and four-course dinner in our room and package rates). With communal-style dining, we find that mealtimes are when campers really get to know one another and develop lifelong friendships. Ski coaches join in on meals as well, so you can continue to discuss technical skills and terrain selection after the ski day is over.  
6
.
Increased Confidence
While skilled ski instructors are focusing on improving your technical skills, there is another crucial factor in advancing on the slopes: confidence. The mental component of skiing is not something that can't be taught, rather it is gained from feeling supported and encouraged both on and off the slopes. Through the years, we have found that so much of this support comes from your fellow campers. It is one thing when your professional ski instructor can link one perfect turn after another, but sometimes it takes seeing someone else at your ability level do it before you realize that you are just as capable of achieving the same.  
7
. Alta M
agic 
While you come for the advancement in your skiing ability, you will leave with lifelong memories both on and off the slopes. Skiing your first black diamond run or sitting next to a new lifelong friend at the opening dinner are experiences you will never forget. Joining an Alta Lodge Ski Adventure Camp means finding a place to call your "home away from home". When the program comes to an end, campers leave feeling like they have a place to come back to. You won't just become a part of the Alta Lodge family, but a part of the Alta community as well. As a part of that community, you will find yourself dreaming of snowy mornings, bluebird afternoons, and unforgettable Little Cottonwood sunsets as you count down the days until you are able to return. Sign up for a Ski Camp and start a skiing tradition like no other.